FAITH BASED HOLLYWOOD!
WE ARE BEGINNING TO SEE WHAT HAS BEEN PROPHESIED! GOD TAKING BACK MEDIA & ENTERTAINMENT MOUNTAINS. GOD WAS NEVER IN THE BOX STUCK IN TRADITION. THIS IS EVIDENT IN JESUS' LIFE WALK OF DISCIPLESHIP! BE PREPARED TO SEE A SHIFT IN THE ENTERTAINMENT INDUSTRY REFLECTING GOD CONSCIOUSNESS!
Ja Rule: 'Right Now I'm On My God Flow'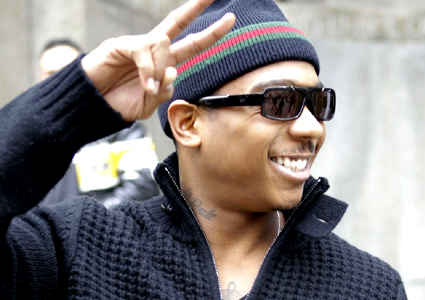 Jeffrey Atkins, 37, stage name Ja Rule, who was released from Upstate NY prison in February of this year, is, according to him, a changed man.
Since completing his two-year sentence for illegal gun possession amid an ongoing government battle for tax evasion, the rapper and actor is opening up about finding God behind bars.
"Right now I'm on my God flow, you know what I mean?" he told HOT 97 radio personality Angie Martinez. "I got Job 1:21 tattooed on my chest."
That biblical verse says, "…Naked came I out of my mother's womb, and naked shall I return thither: the Lord gave, and the Lord hath taken away; blessed be the name of the Lord."
"When I went to jail, I read the whole Bible," he said—something that impacted his way of thinking and helped him release a lot of pent up anger toward those who had wronged him.
"I feel like unforgiveness, bitterness and resentment, it blocks the flows of God's blessings in life," said Ja Rule. "So, you know, I'm really in a good head space. I really want to just do what I'm doing and not focus on nothing negative at all."
A positive aspect of his life revolves around his new faith-based film role, "I'm In Love With A Church Girl," which hits theaters October 18.
Baptized with Fire
Something is stirring. Something is coming. Many can feel momentum building, a momentum that will break forth with a move of the Spirit unlike anything the world has ever seen. In scripture, we are promised that Jesus came to baptize His church with the Holy Spirit and with fire. Are you ready to be immersed, overwhelmed, and set ablaze by The Burning One? Are you ready to encounter The Living God in such a profound way that you become fully alive in the resurrection power of His burning love? Then you must be BAPTIZED WITH FIRE!
Baptized with Fire is a documentary sharing insights about the burgeoning move of God that will explode into the earth in a way that is beyond revival, beyond reformation, beyond anything the church even has a word for yet. It will present revelation from many respected prophetic voices about what is happening in the Spirit right now, as well as historical accounts of divine manifestations of heavenly fire. You'll learn from world-renowned teachers, historians and ministers, plus you'll hear amazing testimonies of incredible encounters with the blazing reality of the baptism of fire that a few individual believers have experienced – the baptism of fire that is about to break forth in a mighty corporate explosion!
Kingdom SPOTLIGHT!
TOPPING THE CHARTS AND A MEMBER OF JFHM LEADERSHIP TEAM
Let's celebrate our sister in Christ and leadership member of JFHM, Prophet Kia Talien, who currently at the top of music charts honoring our King JESUS with her worship, praise, in song.
Talein is an award-winning artist known for her angelic voice and explosive stage presence. She is the Youth Gospel Choice Awards Best Female Artist for 2008 and is setting the standard for the gospel music industry. It was evident at a young age that she was going to be a woman of purpose and destiny. Talein, born Kia Talein Anderson is a multi-talented woman on a mission to share her gifts and talents with the world. She is an entrepreneur, writer, songwriter, model, actress, gospel-recording artist, life empowerment coach, and mother.
Number 1 on the ReverbNation Christian/Gospel charts for Atlanta, GA. http://www.reverbnation.com/talein
R.I.P Paul Crouch. I thank God for TBN and the opportunity it afforded me 15 yrs ago to share my gift Internationally and spread the Gospel of Jesus Christ. My heart and prayers are with the Crouch family. He was passionate about getting the gospel into parts of the world where the love and word of God could be ministered. This is for you Paul. My first International appearance on TBN. Thank you for being a pioneer for the gospel. http://www.youtube.com/watch?v=Q-5FqedHpIY
Kingdom Watch!
Let's continue to pray and cover what god is doing in the music industry!
Mainstream Music Artists SHIFTING and the Love On God Movement is happening! Calling on ALL Intercessors to intercede for the transference of Artist blinded in darkness to AWAKE and enter into the Kingdom of God. That God will use them for His Will and purpose for their lives and that God will get the glory in their talent, resources, influence.
Recent Kingdom Citizens
R&B Singer
Keri Hilson:

'I Rededicated My Life To Christ'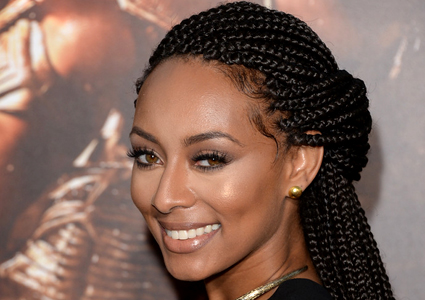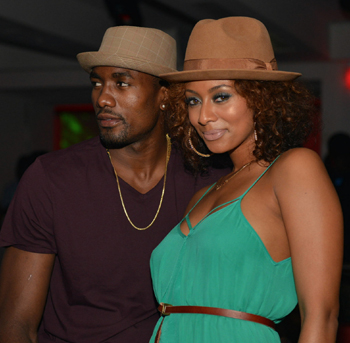 Keri Hilson and boyfriend of 1 year Serge Jonas Ibaka Ngobila, known as Serge Ibaka. He is a Congolese-Spanish professional basketball player for the Oklahoma City Thunder (Credit: Prince Williams)
If you notice R&B singer Keri Hilson glowing, it has nothing to do with a new bronzer or skin product. She says it has everything to do with the fact that she rededicated her life to the Lord.
In an interview with Global Grind, while promoting her bit part in the hit action film Riddick, the "Pretty Girl Rock" singer opened up about her love of God and the new beau she believes is heaven sent.
"I hear that I'm glowing. That's the word that I hear most often, for the past six months of my life, that I'm glowing. I don't know what's changed. I've been in a relationship for a year. I rededicated my life to Christ in April 2012," she said. "I came out of a really dark depression. I am happy and I'm glad people can see when you are genuinely happy."
When asked whether she reconnected "with the Lord first, or with love first," Hilson answered, "The lord. I actually met him (Serge Ibaka) maybe six months after I rededicated my life to Christ."
While the professed Christian entertainer views her professional athlete man as a gift from God, she further believes he was a tool to help her open her heart and trust God more.
"I also felt like God is a comedian, for real. He gave me everything I wanted and everything I thought I didn't want. You know? He's like, 'Ha! You've got to trust me. Stop putting limits on who I am and what I do.' I absolutely had limits – I had parameters," she explained.
"I had a huge blockage on the types of guys I would date and just when I was – I had tweeted something, 'I guess it's time for me to adjust the parameters of dating,' or something like that, and it was months before meeting him actually, but it was just saying that sometimes you have to trust God and stop putting rules and limits and parameters on things. The moment I accepted that, was the moment he came my way."
Hilson is a part of a growing group of mainstream performers who are openly professing Christianity.